"NOTHING COULD HAVE STOPPED HER…"
Yep, it seems like our girl, Chrissie, could not have escaped her fate as a Great Champion.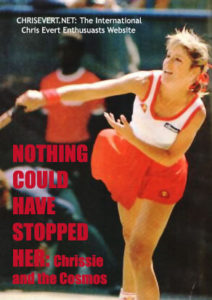 Sagittarian Chris Evert was born on December 21, 1954 in Ft. Lauderdale, Florida, and a quick review of her astrological profile reveals that the Cosmos, itself, put its indelible stamp on this future tennis phenom.
Here are the energies and influences that were present at the time and place of Chrissie's birth. See if this sounds like her to you:
(And, yes, this really IS based on the time, place, and date of Evert's arrival on the planet!)
SUN IN SAGITTARIUS, MOON IN SCORPIO
This astrological combination confers upon you a strong constitution for cultivating self-discipline, patience, endurance, and working power. Your nature is proud and self-reliant with great capacity for investigating and probing. Under any circumstances, your perseverance and persistence, along with your desire for independence – physical, spiritual, and financial – should assure you of material security. (Not only the inventor of the patience and discipline-centered baseline game, Chris was indeed the first player in tennis history to reach the $1 million in career earnings mark! Hmm…fascinating!)
ASCENDENT IN SCORPIO, MARS IN THE FOURTH HOUSE
Your life will be marked by your shrewd, secretive, obstinate, clever, and reserved disposition. You remain an enigma, not easy to get to know well and reluctant to let others know the exact nature of your moods or feelings. Behind your quiet exterior lies a great deal of emotional depth, sensitivity, complexity, and also fierce determination. You function well in crisis situations for you enjoy the feeling of living at full capacity. When you want something you go after it rather quietly but insistently and wholeheartedly – and you usually get it. (Does THIS describe the 7-time French Open champion? Just ask her foes!)
SUN IN THE SECOND HOUSE
You have tremendous inner resources and strength, and pursue your goals with complete dedication and singleness of purpose. An incurable optimist, you can dream big and pursue a distant goal. You have a great deal of faith and trust in life, and failures don't crush your spirit. You have a deep belief in your own power and your ability to survive any change and to emerge victoriously from any difficulty. You always bounce back from disappointments and are philosophical about your mistakes. (Chris is, of course, the notorious Comeback Queen, with enough dramatic come-from-behind victories to fill a series of volumes in any local library. And among her famous quotes is this gem: "If you can be as excited about your losses as you are about winning, then you're really accomplishing something. And that quality is something that will stay with you through the rest of our life.")
MOON IN THE TWELFTH HOUSE
You are assertive and confront difficulties in a direct, no-nonsense sort of way. You cannot tolerate self-pity or passivity, and can be rather brusque with others' emotional problems. "Stop crying and DO something about it" might be your motto. (And DO something, she did! Whether it was getting fit, transitioning away from her beloved wood racquet, sacrificing love affairs for her commitment to tennis, or finding a way to finally overcome seemingly unbeatable rivals like Tracy Austin or Martina Navratilova, Chrissie always broke through the weight of her challenges and let her tennis do the talking.)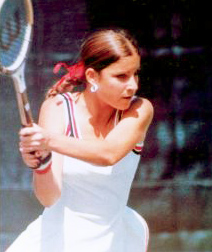 VENUS IN THE TWELFTH HOUSE
Only those very close to you have a hint of the little known facets of your personality. Regardless of the way you speak and express yourself, when you are alone, relaxed, and free of worry, you can have a sociable and congenial temperament that runs alongside a generous, kind, and attractive character.
MARS IN PISCES
Happiness and fulfillment in your career are likely because you give your all to it and will not allow compromises to sink in, that most other people feel compelled to, in order to succeed. Convincing, selling, persuading, reasoning, bringing ideas into public awareness are also part of your professional life. Enormous aid to your career is apt to come through your father or another important male figure in your life. (Well, Chrissie's dad started it all for his future champion at age 5, hitting balls to her from a shopping cart, and remaining her coach until she married John Lloyd in 1979, who became her coach until 1982. She also "sold" the public on Women's Tennis at a time when it was still not taken very seriously, in comparison to the men's game, and she served as President of the Women's Tennis Association for more than 8 years, in addition to her duties of being the #1 or #2 ranked player in the world all those years!)
VENUS CONJUNCT ASCENDANT
Venus conjunct the Ascendent indicates that you have a personable manner and social charm which win you the approval of everyone you deal with. (Or as John Barrett of the BBC put it, "Evert has been the most popular player throughout the world since the war.")
(c) 2003/16 chrisevert.net