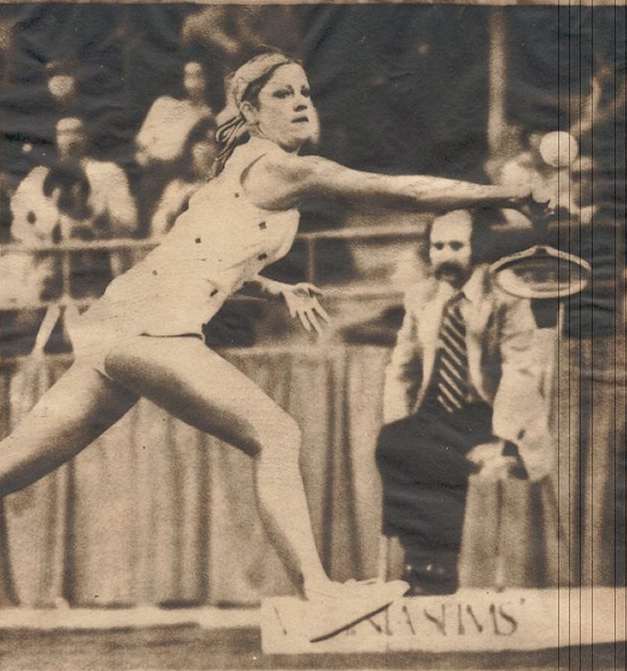 [Editor's Note: I received an email from someone interested in seeing the heralded 1981 MSG round robin match of Chris Evert & Tracy Austin. I broke the news to him that there were no cameras on court that night, so somehow acquiring that footage to view would unfortunately never occur. His sigh of regret at never getting to see it was eloquent.
He wrote, "…I will never forget the description of the match by a writer in Sports Illustrated the week after the tournament. In that article Chris herself said "that was the most grueling match I've ever played." Bjorn Borg said of the match that it was a "tennis clinic"; Pam Shriver said she was "hyperventilating just watching what they were doing out there." Needless to say, those accounts of the match were burned into my memory and I always hoped that someday I would be able to see it …"
So with that, we thank Steve Flink for offering us his set of eyes & photographic memory for this ChrisEvert.Net exclusive account on the match – so that we can all feel like we were there first hand!]
MATCH REPORT:
EVERT d. AUSTIN 4-6, 6-4, 7-6 (5), ROUND ROBIN, TOYOTA SERIES CHAMPIONSHIPS, NEW JERSEY, 1981.
By Steve Flink
Across their careers, Chris Evert and Tracy Austin clashed on 17 occasions between 1977 and 1982, with Austin holding a slim 9-8 edge in the series. But their best battle by far was this meeting on December 17, 1981 in the season-ending event at Brendan Byrne Arena in the Meadowlands.
It was an exceedingly high quality contest between two great players, lasting three hours and 20 minutes. Four days shy of her 27th birthday, Evert played a magnificent match. From the outset, the rallies in this collision on indoor carpet were extraordinary. Neither the 19-year-old Austin nor the imperturbable Evert gave anything away.
Locked at 3-3 in the opening set, they fought ferociously through 10 deuces before Austin took the following game. She soon garnered the set, and then built a 4-2 lead in the second. Coming off her second U.S. Open triumph three months earlier, Austin was highly confident, seemingly on her way to a straight set triumph.
But Chris knew that she was playing well, and she was not about to surrender. From 2-4 down in that second set, she reversed the trend in the baseline exchanges and displayed her much greater versatility and court craft. She found her range off the forehand and began making Tracy dig up difficult low balls by exploiting her punishing slice and sidespin shots off that side. She also got greater depth and better angles off her two-handed backhand, and it was apparent that point by point, game by game, she was picking Tracy apart.
Evert reeled off 4 straight games to close out the 2nd set and surged to a 5-3 lead in the third. She had two match points in the ninth game but an obstinate Austin held on, boldly hitting her way out of that corner. Austin collected three games in a row, and suddenly Evert found herself serving at 5-6, 0-30, two points away from an exasperating defeat. Once more, Chris drove her way courageously out of danger. She held on for 6-6, and then swiftly took a 4-0 lead in the tie-break. Austin dug in again, taking four points in a row to reach 4-4, only to deliver a double fault on that critical point. Serving at 5-4, Chris produced an excellent forehand drop shot that Tracy could not handle. Evert was at 6-4, double match point. Austin saved one match point but Chris out-dueled her in a crosscourt forehand exchange to conclude a stirring battle of wills.
Chris won this match with subtle variations of pace, superb use of the drop shot, sounder execution, and steely determination. It was the match that sealed her seventh No. 1 world ranking in an eight year stretch (1974-81) according to nearly all of the experts. Evert had won Wimbledon that year, Austin had taken the U.S. Open and Martina Navratilova had captured the Australian Open but very little separated these three formidable players during that season. Evert's triumph over Austin guaranteed her place at the top.
Her record during the year was 72-6, including victories in 9 of 15 tournaments. She had been a semifinalist or better in all four Grand Slam tournaments, which neither Martina nor Tracy had done. But she needed at least one win over Tracy to solidify her claim to No. 1. That was the way we saw it at World Tennis Magazine at the time. A round robin match would not normally be so significant, but in this particular year it was very important since Chris had lost her only previous 1981 head-to-head showdown with Tracy in the final of Toronto. Had she finished the year 0-2 or 0-3 against Tracy— who ended up at No. 2 in the world— a good case could have been made that Tracy deserved to be regarded as the best player in the world. So that one win made a world of difference.
Austin went on to win that tournament, defeating Evert in the semifinals and Navratilova in the final. One year later, on the same court, Evert routed Austin 6-0, 6-0 in their final career showdown.